KPNP 1600 AM Broadcasts:
Local, National & International news

Asia-Specific radio program

Live shows-in studio guests

Oversea radio program

Entertainment

Earlier Childhood Educational Program

Financial Advising Educational Program

Health Relate Issue Program

Housing - Foreclosure Prevention Program & others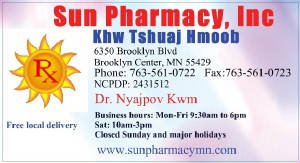 You don't have to speak another language to reach the Minority Community in Minnesota - you just need to speak to Minority Radio KPNP 1600 AM..
.
Mission: Dedicated to serve the under serve minority community in Minnesota by creating a Multi-Culture Radio Station that informs, inspires, educates, and for sure, entertains through the use of KPNP 1600 AM and the Internet.
.

The minority population trend in Minnesota continues to expand, their emerging economy base continue to increase, and their need for goods and services are enormous.


We are the best communication channel to them which total in thousands. You will get the results you want from us. Call 763-585-1600 or email peter@kpnp1600.com for an advertising package.
| | | |
| --- | --- | --- |
| | Hmong Radio. Xov Tooj Cua Hmoob KPNP 1600 AM yog qhov chaw tshaj xovxwm, tso kev lomzem, thiab tshaj lagluam rau Hmoob. Hu rau 763-585-1600. Email rau peter@kpnp1600.com | |
| | |
| --- | --- |
| | Peter Nom Phia Xiong loves Hmong radio shows and has been doing it for 20 years. He can make one laughs, mads or cries. Listen live Monday-Friday 8:am-10am central time. Email: peter@kpnp1600.com. |
Pa Chai Thao is hosts our entertaiment programs from Monda - Friday. 2:pm-3:30 pm. He can be reached at 651-354-1674. email:

pajcaithao@yahoo.com

.
| | |
| --- | --- |
| | Thai Anthony Xiong is our Saturday and Sunday Talk Show Host from 8am - 10 am standart time. His show includes: news, call in guest and listeners. Anything worth sharing, let Thai A. Xiong know. His email: lomzem2012@gmail.com |
__________________________________________________________________

Follow me in Youtube: Peter Phia Xiong https://www.youtube.com/watch?v=DoGTsb_PZIQ
Listen Now - Mloog xov tooj cua Hmoob
Hmong Kill Hmong at July 4th, 2018
Mour-Lor Chiropractic & Acupuncture, P.A.
Headaches, Neck, and back pain from car crash, wrk, & sports,
call Dr. Yer Moua Lor. Mpls Office: 612-529-0202
www.hmongchiropracticmn.com
Other daily programs-Lwm cov lus